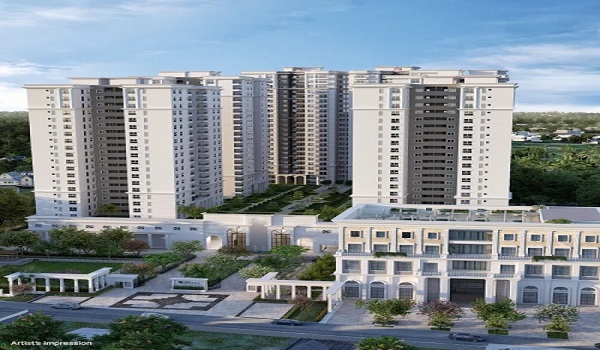 Sobha Neopolis is a luxurious enclave of 1, 3, 3 plus study, and 4-BHK apartments by Sobha Limited. It is located at Panathur in the east of Bangalore. The project is on 25 acres of land and has Vaastu-compliant homes. These are well laid out and are perfect for people who want a modern space to live in.
An apartment is a self-contained home that is usually seen in cities. These are part of a larger building or a complex. They have a living area with one or more bedrooms, a kitchen, and bathrooms. These are of many types, from studio apartments to those with multiple bedrooms. These are a popular choice of home and offer convenient living.
The Sobha Neopolis apartments are in many different layouts. These range from 660 square feet to 2481 square feet. The building of the elite project is to be completed in five phases. It has already received RERA approval for its different phases. The enclave was launched in July 2023. It will be ready for occupancy from December 2028.
The project has been inspired by Greek design aesthetics. It is a mix of classical layout and modern style. There are lovely columns and grand arches that rise up from the buildings. These give it a magical and enchanting feel. The apartments at Sobha Neopolis give people in the city the feeling of being on a vacation in the Mediterranean.
There are 19 imposing towers in the enclave, each of which has 18 floors. There are 1875 large units in the project that are designed to meet every homebuyer's needs. The homes are laid out to be airy and bright, with large windows and balconies. They are roomy spaces that afford modern residents all the privacy and space they need.
The different apartments available in the enclave include:
The 4-BHK Sobha Neopolis apartments range in size from 2333 to 2481 square feet. There are 455 of these units in the enclave, and they are perfect for people who want more space. The homes have a living and dining area, kitchen-utility space, four bedrooms, and four bathrooms. There are two balconies with a garden area attached to one balcony.
There are 14 exclusive 3-BHK plus study apartments here that have a super built-up area of 2150 to 2178 square feet. These homes have spacious living and dining spaces, a kitchen and utility, three bedrooms, a study, and three bathrooms. The homes also have two balconies and a garden space on one balcony.
There are 1181 units of 3-BHK Sobha Neopolis apartments that range from 1611 to 1915 square feet in size. The well-laid-out homes have a living and dining area, kitchen and utility space, three bedrooms, and two or three bathrooms. These dwellings have one wide balcony area.
The 1-BHK apartments in the enclave are perfect for singles and young couples who want a compact living area. These are the ideal homes for them and have a super built-up area of 660 square feet. They have a living and dining area, a large kitchen, a bedroom, a bathroom, and a balcony.
The high-end Sobha Neopolis apartments has the best living experience in the city. The enclave has a lot of top-notch amenities. There are three large and elite clubhouses here. There is a fitness center, a bonfire court, an aquapark, meditation pads, and a swimming pool. There are rooms and courts for sports, such as tennis and basketball.
The prices of the homes are from Rs. 87 lakhs to about Rs. 3.2 crores. GST and taxes will be additional. These homes are perfect for the modern folk who want luxurious homes and a lot of amenities. The Sobha Neopolis apartments' lush grounds promise a peaceful and happy existence in the trendy east zone.