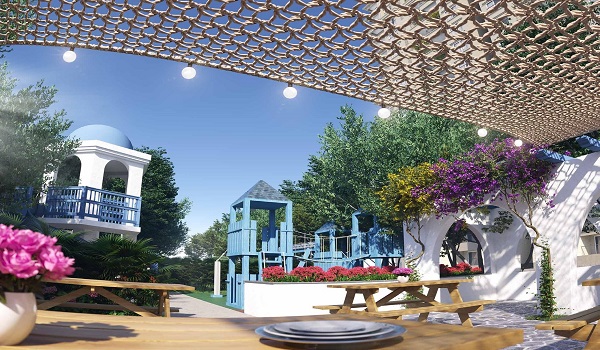 Sobha Neopolis is a project by Sobha Group located on Panathur Road in East Bangalore. The housing options in Sobha Neopolis vary from 1, 3, and 4-bedroom units. The project is over an area of 25 acres, and it has 1875 units. The project has 19 towers, and each tower has 18 floors.
Sobha Neopolis Phase 1 is a project of homes at Panathur Road in Bangalore's east zone. The project has 5 phases, and every phase has got RERA approval. Phase 1 has got RERA approval, and the launch is in 2023, and the possession is by the end of 2027.
Sobha Neopolis Phase 1 details
Project location – Panathur Road
Rera approval – RERA approved
RERA number - PRM/KA/RERA/1251/446/PR/200923/006269
Project Type – Apartments
Launch date – 2023
Possession date – End of 2027
Buy flats in high-rise apartments in Sobha Neopolis, Panathur Road, for an amazing and satisfying lifestyle. The project is in a prime area, and it is best for investment as it will offer a good resale value. The project has a range of modern amenities to provide a better lifestyle for the people, and some of them include
Moon Garden
Portico
Fiesta park
Falling Garden
Eco pond etc.
The project also has a range of fitness features that include a leisure pool, jogging track, fitness corner, tennis court, basketball court, etc. A 1 BHK flat ranges from 435 sq ft.
A 4 BHK flat ranges from 2481 sq ft, and a 3 BHK flat ranges from 1240 sq ft. The project follows Greek design, and timeless Grecian marvels inspire the amenities. The impressive Arrival Plaza of the project invites you to the Greek paradise.
The project prices are reasonable, and investing now is best as by the date of possession, the value will increase. The project offers good value for investment as it is in a developing area with all the needed features nearby.
The project has 3 clubhouses designed with vibrant, Santorini-inspired blue & white hues of elegance and distinctive domes. Natural stone paving, rustic patterns, and colorful & dense foliage give this sprawling community an enchanting aura.
The project has a range of features that include a salon, spa, coffee shop, restaurant, mini theatre, etc. There are indoor game areas to have a great time with friends, and the project has an indoor pool and squash court for a great leisure time. The project has a big hall for holding parties and events.
The project has a gym to keep people fit, and it has a leisure pool for good leisure time. The project has multilevel decks with dome gazebos for relaxed mornings. There are canopy dining areas for al fresco brunches.
There are big gardens with a lot of open areas. The project has big pathways and many lawns where everyone can walk leisurely. There are running and jogging tracks to keep everyone fit.
The homes are classy enough, giving enough natural light and fresh ventilation with a good exterior and interior finish. The property has everything nearby, and it is close to schools, shops, and entertainment options. Good schools and colleges surround the project so kids can get a good education, which makes it an ideal place for families.
The project location is great, with a good transport network to other parts of the city. It is easy to get around because it is close to roads and highways. The area is developing fast, and as it is near big IT hubs, people can invest here as it cuts off their travel time.
The project is in a future perfect location and it is a highly sought after area with a good transport network. The project is near Outer Ring Road, making it an ideal location near the city's workforce. So, investing in Sobha Neopolis Phase 1 is best as it is a meticulously planned residential project that aims to provide a luxurious living experience to its residents.